Melissa Husband appointed Chief of Staff and Karen Carlson Chief Operating Officer
July 13, 2022 (Smithfield, RI) – Neighborhood Health Plan of Rhode Island (Neighborhood), a not-for-profit health plan founded to serve Rhode Island's at-risk populations, is excited to announce two new members of its executive leadership team. Melissa Husband has been appointed chief of staff and Karen Carlson, chief operating officer.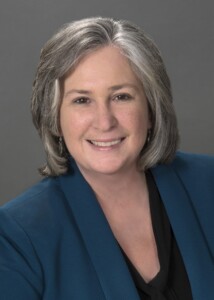 Melissa Husband
As chief of staff for Neighborhood, Husband will tap 20 plus years of experience in public policy, nonprofit management, effective leadership and public administration. In this role, she will support the organization's President and CEO Peter Marino and the broader executive leadership team in executing strategic projects to meet corporate goals across all areas of the business.
"Melissa's deep experience in and affinity for public service makes her a tremendous asset for the mission-driven work we do," said Marino. "She is a highly skilled public servant grounded by a strong foundation in strategic planning, financial management, performance and project management, policy development and implementation, cyber security, loss mitigation and program evaluation. Melissa's skills, combined with her impressive track record of enriching the lives of Rhode Islanders, will greatly benefit our members, providers and employees. We are pleased to have Melissa join our executive leadership team."
Husband most recently served as deputy secretary of state and director of administration appointed by Secretary of State Nellie Gorbea. In this role, Melissa was a key leader in guiding work and operations of the Elections Division; Business Services Division; Rhode Island State Archives; Rhode Island State Library; Civics and Education Unit; Rhode Island Public Records Administration Unit; Administrative Rules Office; Public Information and Open Government Unit; and Finance and Personnel Division. Highlights of her accomplishments include the overhaul of data management systems; implementation of safeguards for cash handling and financial reporting; and transformation of the delivery of service to Rhode Island businesses.
Prior to her appointment with the state, Husband served at the Community Action Partnership of Providence (CAPP). Hired as director of Program Operations, within six months she took the helm as executive director to lead the organization through a debt liquidation and establishment of a new 501c3 as a new anti-poverty nonprofit. During her five years of tenure, she grew the organization to 50 employees, $11 million in revenue, and more than $1 million in reserves.
Husband has also held roles at Roger Williams University as an adjunct professor; Rhode Island Housing Mortgage and Finance Corporation; the Urban League of Rhode Island; and Tides Family Service.
Husband holds an undergraduate degree from Roger Williams University and a Master's degree from University of Rhode Island. She is a lifelong resident of the Southside of Providence.
Karen Carlson
As chief operating officer of Neighborhood, Carlson will apply over 20 years of experience building efficient and effective teams at health and human service organizations to leading the Operations Division at the health insurance plan. Her key responsibilities will include strategic management and performance oversight of business operations across the enterprise, including call center services, claims management and information systems. As a key part of Neighborhood's executive leadership team, Carlson will also contribute to setting the strategic direction for the organization.
"With half of Karen's career spent in human services, half in healthcare, and with significant experience building a lean management culture, she is uniquely qualified and an exceptional fit for the Neighborhood team," said Peter Marino, president and CEO of Neighborhood. "She brings to our organization deep experience in Medicare and Commercial health plans – having overseen enrollment, call centers, claims payment, payment integrity, grievance and appeals processing, and Medicare compliance. Additionally, Karen is skilled in decreasing manual processes and increasing consistency in procedure performance. We are fortunate to have Karen on our executive leadership team and look forward to her contributions to advancing Neighborhood's mission."
Carlson most recently served as managing director at Blue Cross and Blue Shield of Rhode Island (Blue Cross). In this role, she was responsible for timeliness, quality, compliance and payment integrity for more than 8.5 million claims payments and 12,000 grievance and appeals cases per year. During her 15 years at Blue Cross, she also held positions as business solutions architect leading large scale initiatives within Client Operations and manager of Technical and Business Analysis directing the research team in resolving medical and pharmacy benefit issues.
Earlier in her career, Carlson advanced through direct care positions at the Walker Home and School and the YWCA of Northern Rhode Island before joining Family Service of Rhode Island. While there, she transitioned from program director responsible for mental health outreach and case management programs to director of Operations overseeing 10 locations and responsible for the bidding processes, contract management and project management.
Karen holds an undergraduate degree from the University of Massachusetts and a Master's degree from Nova University. She has been Project Management Professional (PMP) certified since 2005. Karen resides in Rehoboth, Mass.
ABOUT NEIGHBORHOOD:
Neighborhood Health Plan of Rhode Island (Neighborhood) is a not-for-profit health maintenance organization (HMO) founded in December 1993 in partnership with Rhode Island's Community Health Centers and the state to ensure everyone in Rhode Island has access to high quality, cost-effective health care. Neighborhood serves over 221,000 members in the state with 82 percent of its membership Medicaid eligible through its ACCESS and TRUST plans and 6 percent of its membership utilizing Neighborhood's INTEGRITY Medicare-Medicaid Plan (MMP). About 12 percent of Neighborhood's members are individuals, families and small businesses who select one of eight Neighborhood commercial plans available through the health exchange, HealthSourceRI. Of these members, about 85 percent qualify for federal subsidies to cover a portion of their costs. Today, Neighborhood—with over 600 employees and $1.5 billion in revenue—serves one out of every five Rhode Islanders. Learn more at nhpri.org.