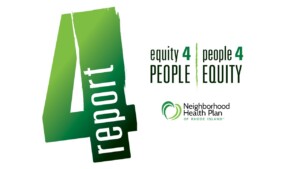 While equity has been a part of Neighborhood's mission since its inception, we have since developed more robust tools to lead more visibly and illuminate our accountability. This report – 4Report – is the first time for our organization to share its story widely in the community. The 4Report is a promise to create an inclusive work environment for our employees and access to quality and cost-effective health care for all Rhode Islanders.
Neighborhood is excited to introduce its commitment to creating equity within the organization and in the communities we serve. Read the 4Report.
While our 4Report outlines our Equity4People|People4Equity vision and strategies, this companion document, 4Report Scorecard, establishes incremental metrics to track progress on individual projects. It's our hope that this scorecard will capture results of our endeavors for each of the Neighborhood4Equity Principles and associated commitments. Neighborhood is proud to share with you our 2022 achievements and what we are aiming to measure over the next three years.