Food access pilot program delivers food directly to participants' homes
and provides clinical care support team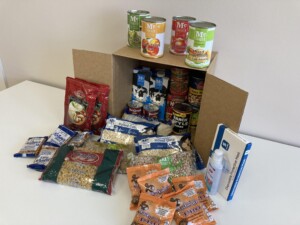 March 15, 2021 (Smithfield, RI) – Neighborhood Health Plan of Rhode Island (Neighborhood), Thundermist Health Center (Thundermist) and Algorex Health have partnered on an innovative food program to address extreme food insecurity in Woonsocket. The "Neighborhood-Thundermist Food Access Program" is a six-month pilot aimed at 140 Neighborhood Medicaid members who live in Woonsocket and access health care through Thundermist's Woonsocket location. The program's primary objective is to test whether supplemental groceries delivered to the homes of members with significant food access challenges have a positive impact, particularly when combined with the engagement of a clinical team, on the health and quality of life of participants. Rolled out over the December holidays, the pilot program will culminate in mid-June and use both quantitative and qualitative measurements to determine impact on participants' health.
Participants in the program receive weekly or bi-weekly, depending on household size, boxes of shelf-stable foods delivered to their homes to address gaps in food access. The boxes also include face masks and hand sanitizer to support pandemic safety measures. The design of the program was informed by social determinants of health (SDOH) data and is unique compared to other food intervention programs in Rhode Island because of its integration of clinical engagement with participants.
"As one of the Nation's top safety net health plans, Neighborhood's number one goal is to ensure its members have access to the resources they need to live healthy lives," said Peter Marino, president and CEO of Neighborhood. "This program is an example of our commitment to that goal. We have terrific partners in Thundermist and Algorex Health, and our combined efforts will help address challenges that are often the most significant barriers to food access—economic stability, access to transportation and availability of healthy foods."
As an early advocate for using SDOH data to inform and action programs to spur change, Neighborhood engaged Boston-based data science company Algorex Health to conduct an analysis of Neighborhood's membership. Together, Neighborhood and Algorex Health identified Medicaid members living in a "food desert" in Woonsocket. The data showed that there are significant challenges to accessing healthy food in many parts of Woonsocket when taking into account income, proximity to retail outlets including supermarkets (Woonsocket has no supermarkets), and vehicle access among residents.
Neighborhood then collaborated with Thundermist to implement a new home delivery food program. Thundermist is an ideal community partner given its 50-year history of serving at-risk populations in Woonsocket and as one of Neighborhood's 14 community health center founders more than 25 years ago.
"Access to healthy food is integral to improving overall health," said Sapna Chowdhry, MD, medical director at Thundermist. "If a patient goes to bed hungry or lacks access to nutritious food, it is difficult for them to focus on other aspects of health. Our partnership with Neighborhood will reduce barriers patients face in improving their health and wellbeing."
Developing solutions to food insecurity, like other social determinants of health, is particularly challenging given the range of underlying causes and their connectedness to one another. Issues such as poverty, unemployment/under-employment, lack of transportation and inconsistent access to enough healthy food are often deeply interconnected. By collaborating with partners mutually vested in the health of Rhode Island's vulnerable populations, Neighborhood, Thundermist and Algorex Health aim to make a difference. Together, they aspire to achieve improved clinical and health outcomes for the individuals and their families in the program, as well as improve use of primary care services at Thundermist.
The unique aspect of the "Neighborhood-Thundermist Food Access Program" is the consistent engagement by Thundermist's Community Health Team (CHT) with participants of the program. As part of the enrollment process of patients who met the criteria for the program, CHT staff provided assistance with selecting a food box type—vegetarian, non-vegetarian, and ready-to-eat options—that would best meet the distinctive health needs of the patients and their families. At the same time, they administered a short survey about food security status to serve as a benchmark for follow up surveys. For the duration of the program, CHT staff will connect with patients each month as well as conduct mid- and end-campaign surveys to assess for changes.
Following the program's conclusion in June, Neighborhood will analyze its impact and consider expansion. Evaluation criteria will include improvements in self-reported food insecurity, levels of access to food, health status including stress levels and adherence to primary care provider and CHT appointments, plus reduced overall financial strain.
To date, participant feedback about the program has been positive, indicating the program's design may be effectively addressing the barriers to food access in Woonsocket. Participant comments include how helpful the program is due to lack of transportation, limited financial resources and Supplemental Nutrition Association Program (SNAP) benefits falling short at the end of the month.
Marino remarked, "Given the impact food insecurity has on families, we are committed to supporting our members in need through a home delivery program in partnership with Thundermist. We also aim to use the learnings from this pilot program to expand our efforts to address this issue. Our goal, over time, is to make a collective difference in tackling food insecurity."
ABOUT THUNDERMIST:
Thundermist Health Center is a full-service primary care provider with dental and behavioral health services. The non-profit community health center aims to improve the health of patients and communities by delivering exceptional health care, removing barriers to that care, and advancing healthy lifestyles. Thundermist has locations in West Warwick, Woonsocket, and South County. The organization cares for patients regardless of insurance and ability to pay. In 2020, Thundermist cared for more than 50,000 patients. Learn more at thundermisthealth.org.
ABOUT ALGOREX HEALTH:
Algorex Health Technologies LLC, a Boston-based data science company, provides AI/ML and social determinant models and campaign management to support value-based care initiatives. Algorex Health is on a mission to make healthcare analytics easy and actionable, while demonstrating the return on investment that SDOH interventions have for organizations and the patients they take care of. Healthcare organizations turn to Algorex Health to proactively surface social determinant needs and manage their overall programs. Learn more at algorexhealth.com.
ABOUT NEIGHBORHOOD:
Neighborhood Health Plan of Rhode Island (Neighborhood) is a not-for-profit health maintenance organization (HMO) founded in December 1993 in partnership with Rhode Island's Community Health Centers to ensure everyone in the state has access to high quality, cost-effective health care. Neighborhood serves over 205,000 members in the state with 82 percent of its membership Medicaid eligible through its ACCESS and TRUST plans and 6 percent of its membership utilizing Neighborhood's INTEGRITY Medicare-Medicaid Plan (MMP). About 12 percent of Neighborhood's members are individuals, families and small businesses who select one of eight Neighborhood commercial plans available through the health exchange, HealthSource RI. Of these members, about 85 percent qualify for federal subsidies to cover a portion of their costs. Today, Neighborhood—with over 500 employees and $1.4 billion in revenue—serves one out of every five Rhode Islanders. Learn more at nhpri.org.