Effort comes as the non-profit health insurer also expands its 'Member Rewards' program
September 15, 2017  (Smithfield) – As the summer of 2017 draws to a close, Neighborhood Health Plan of Rhode Island today announced the successful conclusion of its first-ever summer camp backpack distribution efforts. Since June, dozens of Neighborhood employees have volunteered their time filling drawstring backpacks with summertime goodies and then visiting partner agencies around the state to distribute them.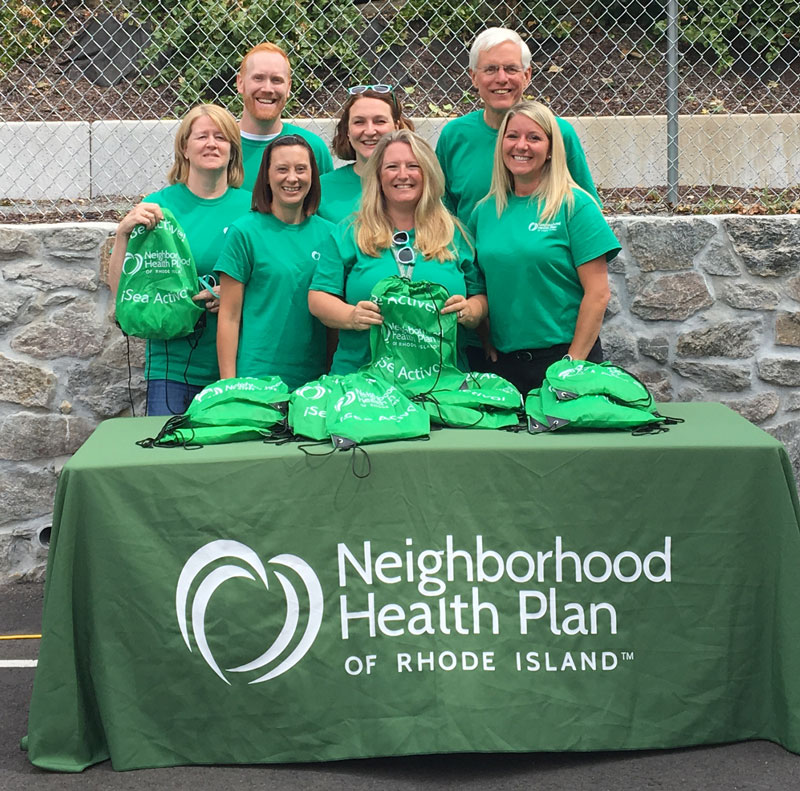 "At the start of the summer, we heard from our friends at some local Boys & Girls Clubs that kids were coming to summer camp without the basic necessities," explained Brenda Whittle, Neighborhood's Chief Marketing Officer. "In some cases, children were coming to camp carrying their belongings in Ziploc bags. We decided that Neighborhood could do something to help these kids have a better camp experience."
Neighborhood teams delivered close to 2,000 drawstring backpacks to Boys and Girls Clubs in Providence, Warwick, Newport, Pawtucket, Woonsocket, Cumberland, and Lincoln, as well as to Tides Family Services, Crossroads RI, and Big Brothers and Big Sisters of the Ocean State. The bags included items such as sunscreen, sunglasses, a towel, and a Frisbee. Partner organizations were still interested in distributing the bags late into the summer, hoping that children could use them for the new school year as well.
"Neighborhood has a long and proud history of supporting Rhode Island's children, and this was a fun way to enhance that connection," Whittle said. "We wanted kids to be safe as well as active."
The summer-long effort was recently featured on The Rhode Show.
Encouraging healthy lifestyle choices was also the motivation behind Neighborhood's expanded 'Member Rewards' program, launched on August 1st.  The program is currently open to most Neighborhood members.
Neighborhood members earn gift cards to local businesses by completing healthy activities like immunizations and check-ups.  For example, people with diabetes can earn a gift card for having routine screenings, and new moms can earn several gift cards for completing all of their pre- and post-natal visits.  Similarly, children who get their annual physicals are eligible for a bike helmet.  Gift card rewards are also available to Neighborhood members who join gyms.  More information is available at www.nhpri.org/rewards or by calling 1-800-459-6019.
"We hope our Member Rewards program gives our members an extra reason to make healthy choices," Whittle said.  "That way, you're healthier, and you get something extra for doing something good for yourself."