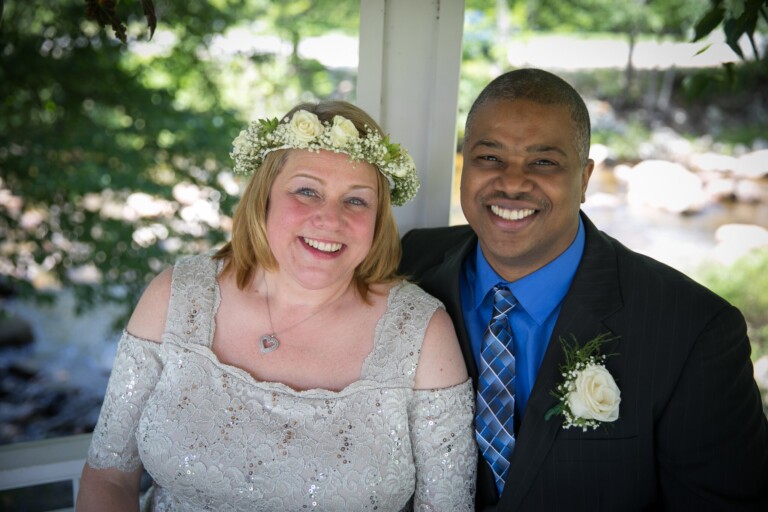 Tony
Telecommunications Administrator 
Information Systems
Donna
Claims Research Specialist 
Claims
Before we get to the "warm and fuzzy stuff", how long have you worked at Neighborhood, what do you do here and what part of your job do you enjoy the most?
Donna: I have worked at Neighborhood for over 17 years. I was promoted to claims research specialist in December. I am excited to be a part of this team because I love identifying issues and researching root causes, then finding permanent resolutions instead of temporary fixes.

Tony: I have worked at Neighborhood for 18 years. I am a telecommunications administrator. The thing I like most about my job is improving communications both inside and outside of the organization using the latest technology.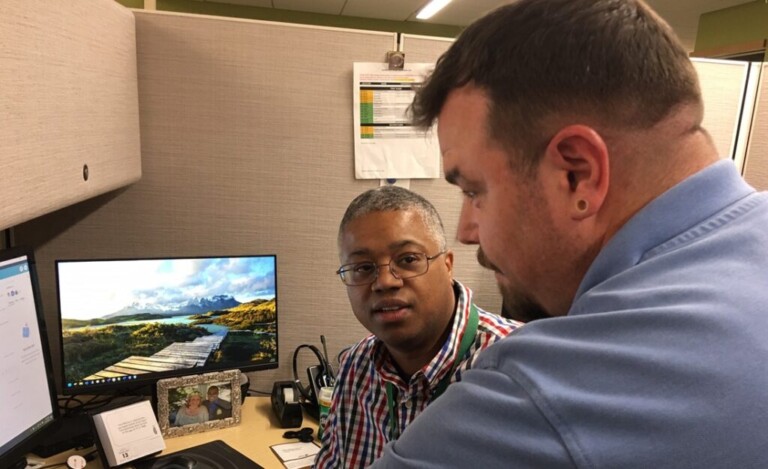 Let's switch gears now. Inquiring minds want to know! When and how did you meet at Neighborhood, what qualities about the other appealed to you, and how long did it take you to realize you enjoyed each other's company and wanted to be a couple?  
 
Donna: Tony and I met in 2005. We would see each other in the hallways and always stop and talk about everything from work to our personal lives. We developed a friendship over time and Tony wound up helping me through some of the toughest times of my life. Then, on Mother's Day, May 10, 2015, I received a text from someone saying, "Happy Mother's Day". (I have two wonderful kids from my first marriage.) I was not sure who sent the text so politely responded, "thank you… to you as well." I quickly found out I had texted Tony! His response back to me was, "well thank you but I am not a mother." Then I recognized the number and apologized. He asked what I was up to and I told him I was going to go sit by the water and work on my tan. It happened to be unseasonably warm that day. Tony's response was, "oh maybe I will join you". Of course I am saying to myself, "he isn't going to join me." Well, he showed up and, as the saying goes, from that day forward we never looked back. We just had an instant connection that quite honestly was there from the day we met. We would spend hours together talking every night – just talking and talking into the wee hours of the morning. We just loved being together every minute we could and that feeling still rings true today. The qualities that I fell in love with in Tony are his huge heart and his ability to make anyone feel comfortable in their own skin. Anyone who has worked with Tony knows he has a heart of gold.   
 
Tony: We really did have an instant friendship and enjoyed talking to each other and getting to know each other better over the years. The Mother's Day that Donna describes was definitely the point when our relationship started to grow beyond friendship. I realized at this point that I saw a potential future with her. Donna is the one with a heart of gold! Plus, she has a very easy going attitude – one that is loving, caring and one that I fell in love with. On February 14, 2016, I proposed to Donna. It was the best decision I have ever made.   
How long have you been married? Do you have a favorite memory from your wedding day?
Donna: We will be married six years in July. It has truly been the best six years of my life. We eloped at a quaint inn near Mount Washington in Jackson, New Hampshire. My favorite memory of our wedding day was hearing we were husband and wife and, right afterwards, taking a tour van up Mount Washington. The entire day created the best feeling ever. 
Tony: My favorite memory from our July 17 wedding day was the entire wedding day. It was a beautiful, intimate ceremony and we enjoyed everything about the surroundings on that special day, including the beauty of the mountains and the Inn. The trip to Mount Washington right after we said "I do" was the icing on the cake.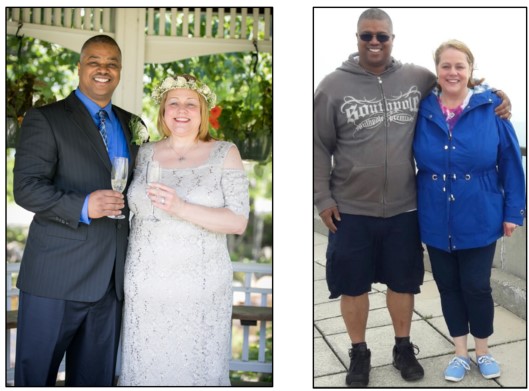 Care to share any secrets about what makes a happy marriage?  
Donna: Good communication, honesty, forgiveness and lots of love. Marriage is not a 50/50 deal, it is a 100%/100% effort by both parties. And for us, one of the most important contributing factors to a happy marriage is keeping God at the center of it.
Tony: I echo Donna's response. You have to have good communication and treat each other the way you want to be treated. And God has to be at the center and involved in your marriage daily. 
How do you like to spend time outside of work? 
Donna: I love spending time with family but I especially love our time together. We can be doing anything from food shopping or meal prepping to going out to dinner or just sitting on the couch snuggling, watching a good movie – as long as we are together. Having Tony by my side is my happy place.
Tony: I love enjoying time together too. We literally do everything together, including a lot of laughing! Where you find me, you will find Donna by my side.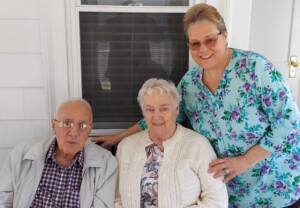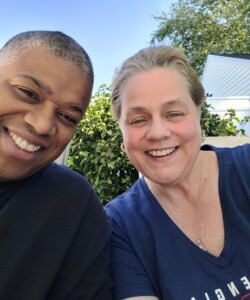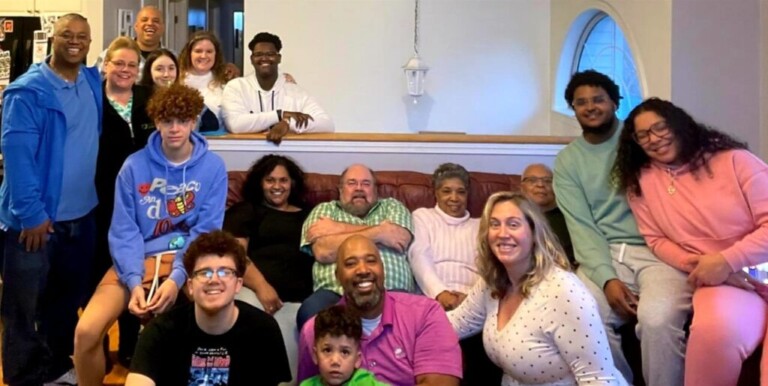 Where did you grow up and what are your fondest memories of your childhood or adolescence?
Donna: I grew up in Dorchester, Massachusetts, for the first six years of my life. Then my family moved to Braintree, Massachusetts. My fondest memories of my childhood are times spent in my church. We had a wonderful, close-knit church family that I was super involved with for most of my childhood into my young adult life. Having a personal relationship with God has always been important in my life. I'm grateful that Tony and I have that common bond.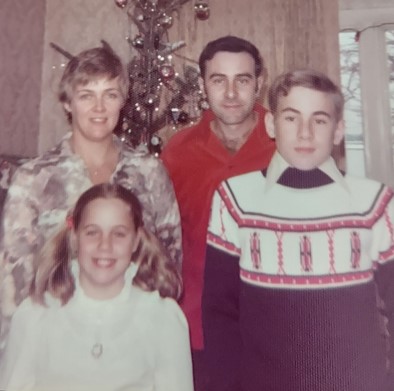 Tony: I grew up in Pawtucket, Rhode Island, with my parents, two brothers and a sister. My fondest memories are of playing sports throughout my school years. I played basketball, football, baseball and I loved to golf.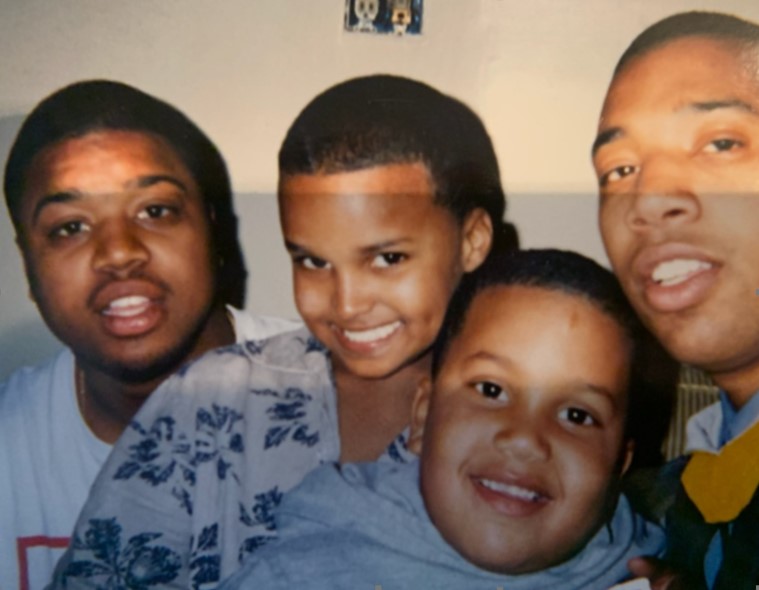 Share a "Fun Fact" with us. Something about you that others might be surprised to learn? 

Donna: I was a cab driver! The '90s were a hard time for me having two young kids and experiencing a messy divorce. I was robbing Peter to pay Paul and I could not afford a car. So I got creative and decided to drive a cab to earn extra money and to have a car to do things like grocery shopping and laundry. It was one of the best jobs that I have ever had. I met some really nice people and the tips were awesome because I worked overnights on the weekends.    
 
Tony: A fun fact about me is I am great at giving haircuts. My dad was a barber by trade. In fact he owned his own barbershop in Pawtucket for many years so I have years of experience cutting my family members' hair including my sister's.

Let's close with some career advice. What advice or mantra would you share with someone interested in the type of work you do at Neighborhood?
Donna: When the going gets tough, keep going! Things will get better and, remember, the grass is not always greener on the other side.
Tony: Always keep an open mind. Working with a diverse group of people that bring different opinions or suggestions helps improve the process. Everyone can give you a different point of view that can help the business grow and succeed.