The two non-profits' collaboration is based on their shared mission of advocating for Rhode Island's most at-risk families and children.
October 2, 2017 (Smithfield) – More than 100 employees of Neighborhood Health Plan of Rhode Island (Neighborhood) joined forces with dozens of other community volunteers to spend three days renovating the Pawtucket facility operated by Tides Family Services (Tides).
The volunteer groups, which also included Tides' teachers and staff members, tackled some big projects ranging from repairing holes in the walls to repainting several classrooms, common areas, and offices.
The Pawtucket facility, located on Dexter Street, is one of the two special education day school programs Tides operates; the other is in West Warwick. Tides specializes in working with students from various socioeconomic backgrounds who need a smaller, therapeutic setting in order to reach their educational goals. The Tides School works with local school departments, community groups and families to ensure that each student receives the appropriate level of academic support as well as therapeutic services so that they have every opportunity to achieve a successful academic experience. Last year 11 students graduated from Tides' schools.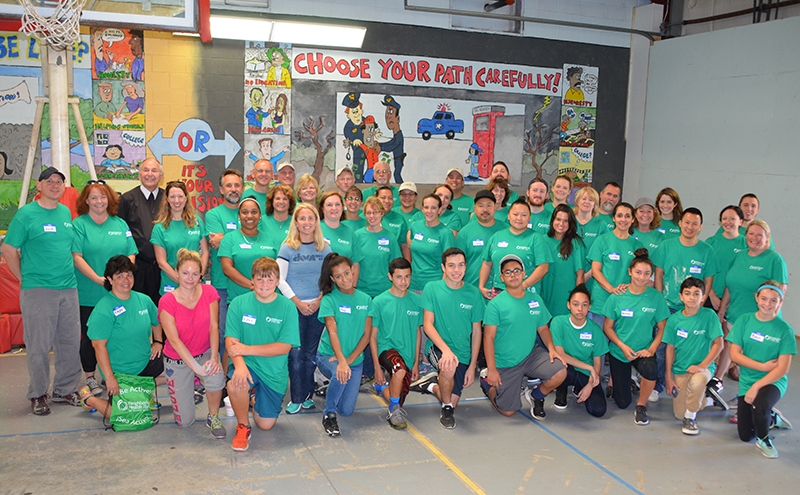 "Our motto is "We never give up on a kid – never," said Tides founder and CEO Brother Michael Reis. "And our teams are dedicated to helping Rhode Island's children succeed.  But, over the years, we haven't had time to keep our buildings looking as nice as we'd like.  And the kids notice. We want them to come to school in a welcoming, inviting location.  We're so glad Neighborhood helped us do that."
Over three days, September 22, 23, and 24, dozens of Neighborhood employees and their family members volunteered their time to give the Tides building a much-needed refresh. Almost three dozen student volunteers De La LaSalle Middle School also pitched in to help.
Sherwin Williams donated 30 of the 60 gallons of paint required to refresh the walls of offices, classrooms, and common areas. Volunteers painted close to 15,000 square feet of space throughout the Tides facility.
"We are proud to team up with Tides," said Peter Marino, Neighborhood's President and CEO. "Our organizations are focused on the same mission: making sure our state's most vulnerable people have the tools they need to succeed. For so many Rhode Islanders, access to high-quality health care and a solid education can be life-changing."
"The faces on our students Monday morning said it all," added Brother Reis. "They were really impressed by how much better their school looks now. These are kids who come from very challenging circumstances. They appreciate every gesture of kindness that they're offered."