When Mia was born at 21 weeks, she weighed only 16 ounces.
Doctors told Mia's mom, Dayana, not to expect her newborn to survive more than 24 to 48 hours. By her second day, Mia was down to 13 ounces.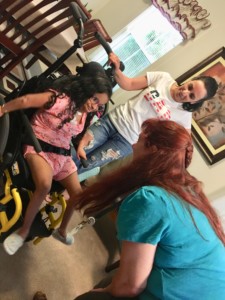 "My baby girl was tiny, but really strong," Dayana says as she cuddles the now 13-year-old Mia on her lap in their Providence home. Keeping Mia healthy and happy is no easy task, but she has dedicated parents who make sure she's getting what she needs.
"I feel really happy and I feel really lucky," Dayana says. "And I feel like I have a lot of people around me and they give me a lot of great support."
That support comes, in part, from Neighborhood Health Plan of Rhode Island. For members who would benefit from it, like Mia, Neighborhood offers an active case management program. Case management at Neighborhood helps medically vulnerable members navigate the sometimes-confusing health care system to help them access the services they need.
For Dayana, that has meant that Petra, a nurse case manager assigned to Mia, was always just a phone call away – a lifeline that provides a sense of comfort that means the world.
Mia breathes with the help of a tracheostomy tube (trach) and, as Dayana explains, while Mia is using one trach, the family is "supposed to use another one as a back-up. Sometimes we don't have the back-up at the house or it's not available, and Petra makes a phone call and a couple of hours later we have the trach. That's magic, right? Petra is magic!"
"I feel like I can count on Petra, I can count on Neighborhood, they give me the support that I need," Dayana continues. "And I feel like with that, my baby is safe."
Petra plays down the role that earns her the title of "angel" in Dayana's eyes.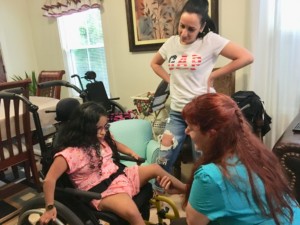 "I just tried to help them what they needed as fast as I possibly could," says Petra, who says she simply sees it has her job "to make sure [Mia] has everything she needs. She can't go without her supplies. So, when there's that kind of block, that's when I intervene."
And it's that behind-the-scenes support that allows Mia's mom and dad to feel comfortable caring for her at home.
"They have everything that they need right here," marvels Eva, another Neighborhood Nurse Case Manager who works with Mia and her family. "I mean, she's got her own pediatric intensive care unit. And [Dayana's] been taught the skills and she has the equipment. This is what care coordination is about. This is what case management is about: being able to give the family the independence to care for their loved one at home."
"I feel like Neighborhood gives me a lot of strength," Dayana adds. "It's good to know that Mia is sick, but we've got the right medicine. Or Mia is feeling better because were taking care of her on time."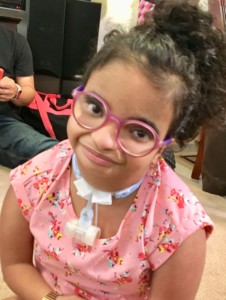 If you spend just a few moments in Mia's home, it's abundantly clear that "she has love, and she has people that care for her, and consistency," Petra says. "And it matters. It makes a difference. And she's a happy child because she has what she needs."
Says Dayana: "I want to give a big, big thanks to Neighborhood. To all the support, to Petra, to all the case managers, to everybody who followed up with Mia's case. Thank you so much!"